Blood Brothers tours the UK 2012-13, is this the show's last hurrah?
Blood Brothers may have said a final farewell to London's West End after a whopping 24 years in performance, but Mrs Johnstone  and the twins will be touring the UK until spring 2013. Check out the tour dates below to see if the magic of Blood Brothers is coming to a town and theatre near you.
| | | |
| --- | --- | --- |
| City | Theatre | Date |
| Aberdeen | His Majesty's Theatre | 19th – 24th November 2012 |
| Sheffield | Lyceum | 14th – 16th January 2013 |
| London | Croydon Ashcroft Theatre | 4th – 9th February 2013 |
| Cheltenham | Everyman Theatre | 11th – 16th February 2013 |
| Carlisle | The Sands Centre | 18th – 23rd February 2013 |
| Cardiff | New Theatre | 25th February – 2nd March 2013 |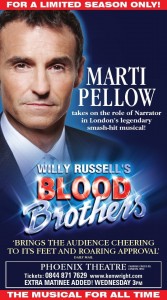 The Tour Cast
Narrator – Marti Pellow
Mrs Johnstone – Nikki Evans
Mickey – Sean Jones
Eddie – Matthew Collyer
Linda – Olivia Sloyan
Mrs Lyons –Tracy Spencer
Mr Lyons – Tim Churchill
Sammy – Danny Taylor
Ensemble
Tori Hargreaves, Graeme Kinniburgh, Jonathan Vickers, Karl Greenwood, Marc Mulcahey and Suzi Power.
About the cast
Want to know more about the actors playing the lead roles of Mrs Johnstone and The Narrator in the Blood Brothers tour? Check out their backgrounds and performance history below.
Marti Pellow
Marti Pellow rose to fame in the 1980's in the Scottish boy-band Wet Wet Wet. After beating a heroine addiction, Pellow dabbles in musical theatre, landing roles on both the West End and Broadway as Billy Flynn in Chicago as well as starring in the London revival of The Witches of Eastwick (2008-2009.)  Marti Pellow has starred in the UK tour of Blood Brothers in 2011 and went on to reprise the role on the West Endfrom 1st November 2011 – 28th April 2012. Pellow is now back in the tour cast and will play his role as the Narrator throughout the run.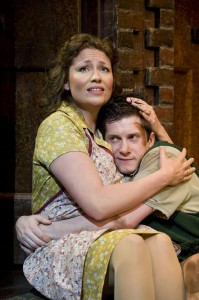 Niki Evans
39-year-old Niki teetered around the edge of the public eye for years before making it to the live finals of X Factor in 2007.  Off the back of her success, Niki successfully auditioned for Blood Brothers and made her West End debut in the show at the Phoenix Theatre in November 2008.   Evans briefly left the cast twice, only to reprise her role in 2009 and again in 2010. Niki Evans also fulfilled the role of Paulette in the UK tour of Legally Blonde in 2012, before once again returning to Blood Brothers, only this time for the tour.
Do you think the tour will be as good as the West End production? Leave your comments below!