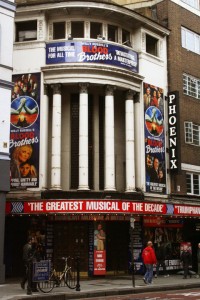 Blood Brothers originally opened at the Lyric Theatre from April to October 1983, gaining both the Olivier Award for Best New Musical and Best Actress for Barbara Dickson.
After a UK tour, the show opened again on the West End in 1988 at the Noel Coward Theatre (then the Albery). This cast included Kiki Dee as Mrs Johnstone and Andrew Schofield as the Narrator. The show stayed at the Noel Coward for three years before moving to its final home, the Phoneix Theatre, in 1991.
Blood Brothers played at the Phoneix Theatre until November 2012 – an amazing 21 years. Playing over 10,000 performances, the show is one of only three to have completed this commendable feat.
Now, the show embarks on numerous tours across the country and is taught regularly in schools – so watch out for Blood Brothers coming to a theatre near you!
For more information on the latest Blood Brothers tour, check out our pages above.