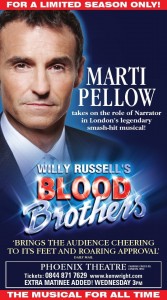 Marti Pellow will perform with the Sunderland cast of Blood Brothers the musical for a limited period of two weeks. The Wet Wet Wet singer was due to perform his usual slot as narrator in the smash-hit musical at the Phoenix Theatre in London from 30th January until 11th February 2012, but due to "unforeseen circumstances" he is now performing in Sunderland on these dates instead.
Marti Pellow rose to fame in the late 1980s and 90s with his band Wet Wet Wet and began a solo career when he left the group in 1999. He later pursued his interest in musical theatre, starring in leading roles in shows such as Chicago, The Witches of Eastwick and Jekyll and Hyde. Pellow joined the West End cast of Blood Brothers in November 2011 to the delight of his fans and will play the role of the narrator until 3rd March 2012.
Did you have tickets specifically to see Marti during these two weeks? Are you lucky enough to have Sunderland tickets in these two weeks and are excited to see him in his highly-praised role? Add your thoughts and comments in the box below!