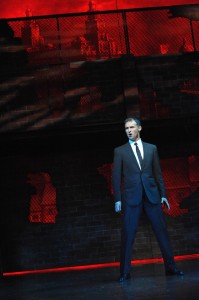 Former Wet Wet Wet singer Marti Pellow has announced he is extending his run in the hit musical, Blood Brothers. Marti has been playing the part of the narrator since 1st November 2011 and was originally due to finish his run in the smash-hit Willy Russell musical in a couple of week's time on 3rd March, but he has extended his run until 28th April 2012, much to the delight of his fans.
Blood Brothers currently shows at the Phoenix Theatre in London, where it has been playing  to packed audiences for over twenty years, since 1991. The tragic and touching tale tells of twin brothers, separated at birth, brought up in different classes who are ultimately reunited. Songs from the score of the musical, also written by Willy Russell, include 'Marilyn Monroe', 'A Bright New Day' and the emotional finale, 'Tell Me It's Not True'.
Blood Brothers is currently taking bookings until 24th November 2012.
What do you make of this news? Are you pleased for Marti or do you think that it's time someone else took over as the narrator? Have your say in the comments box below!