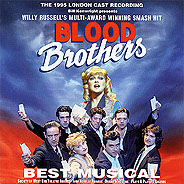 Blood Brothers the musical has been and continues to be extremely successful, as it has played continuously to London audiences since 1988 and has become the longest-running show ever at the Phoenix Theatre, its current home. The show has seen a host of celebrities take to the stage in leading roles, and the soundtrack which was released in 1995 by the current cast at the time, has become popular amongst fans of the musical. The music was in fact composed by playwright Willy Russell, who also wrote the story of Blood Brothers, as well as other plays including Educating Rita and Shirley Valentine. The cast recording included Stephanie Lawrence as Mrs. Johnstone and Paul Crosby and Mark Hutchinson as brothers Mickey and Eddie.
Songs in the musical include 'Marilyn Monroe' which is sung by Mrs. Johnstone and sees two reprisals later on in the show. Others include 'Kids' Game', 'Bright New Day', 'Shoes Upon the Table', 'Long Sunday Afternoon/My Friend' and the emotional closing song, 'Tell Me It's Not True', again sung by Mrs. Johnstone. Full track listing of the songs in the musical is as follows:
1. Overture
2. Marilyn Monroe
3. My Child
4. Easy Terms
5. Shoes Upon The Table
6. July 18th
7. Kids' Game
8. Gypsies In The Wood
9. Long Sunday Afternoon / My Friend
10. Bright New Day
11. Entr'acte / Marilyn Monroe 2
12. Secrets
13. That Guy
14. Summer Sequence
15. I'm Not Saying A Word
16. One Day In October
17. The Robbery
18. Marilyn Monroe 3
19. Light Romance / Madman
20. The Council Chamber
21. Tell Me It's Not True
Lyrics to the popular song, 'Marilyn Monroe' can be seen below:
Mrs Johnstone:
Once I had a husband
You know the sort of chap
I met him at a dance
And how he came on with the chat
Teddy Boy:
Y'dancin', I think you're a bleedin' cracker
Mrs Johnstone:
He said my eyes were deep blue pools
My skin as soft as snow
Teddy Boy:
Lovely
Mrs Johnstone:
He told me I was sexier than Marilyn Monroe
And we went dancing
We went dancing
Then of course, I found
That I was six weeks overdue
Teddy Boy:
Y'What?
Mrs Johnstone:
We got married at the registry
An' then we had a "do"
Guests:
Bring on the bevvies
Mrs Johnstone:
They said the bride was lovelier than Marilyn Monroe
Guests:
And we went dancing
Yes, we went dancing
Mrs Johnstone:
Then the baby came along
we called him
Teddy Boy:
Darren Wayne
Mrs Johnstone:
Then three months on I found that I was
In the club again
Teddy Boy:
I married a bleedin' rabbit
Mrs Johnstone:
An' though I still fancied dancing
My husband wouldn't go
Teddy Boy:
Get lost will y'
Mrs Johnstone:
By the time I was 25
I looked like 42
Me husband he walked out on me
A month or two ago
For a girl they say
Who looks a bit like Marilyn Monroe
Teddy Boy:
Ta ra!
Mrs Johnstone:
No more dancing
No more dancing
The 1995 recording to Blood Brothers the musical is the only official soundtrack available, and it is available to buy online, or at the merchandise stands at the Phoenix Theatre.