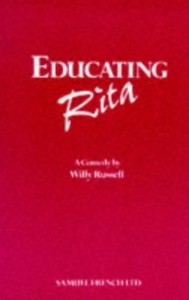 'Blood Brothers' the musical was written by playwright and composer Willy Russell in 1983 and was first shown to audiences in Liverpool, Russell's home city, before transferring to London's West end in 1988. In 1991, the musical moved from the Noel Coward Theatre, formerly the Albery, to the Phoenix Theatre on Charing Cross Road, where it still shows to sold-out audiences to this day. As well as writing the story for 'Blood Brothers', Willy Russell also composed the musical score, has written several other plays and TV shows since and has published one novel in the year 2000.
Before 'Blood Brothers', Willy Russell had written several plays and musicals such as 'John, Paul, George, Ringo…and Bert', a musical about British pop group The Beatles, which showed at the Lyric Theatre in London in 1974 and ran for a successful year, having been named 'Best Musical of 1974' by the Evening Standard Awards. In 1980, three years before Blood Brothers premiered to audiences in Liverpool, Willy Russell's play 'Educating Rita' was shown at The Warehouse in London. The play was set entirely in the office of an Open University lecturer and told the story of the relationship between a young Liverpudlian hairdresser and a middle-aged university professor. The play was so successful that Russell adapted the screenplay for a film in 1983 starring Julie Walters, who had originally played the part on the stage, and Oscar-winning actor Michael Caine. For his adapted screenplay, Russell received an Oscar and a BAFTA nomination.
As well as 'Educating Rita' and 'Blood Brothers', Willy Russell has seen soaring success with the play 'Shirley Valentine' , the story of a middle-aged housewife from Liverpool, focusing on her life before and after a life-changing holiday abroad. The play first opened in Liverpool in 1986 before transferring to London's Vaudeville Theatre starring Pauline Collins. The show crossed the pond to New York where it ran for over 300 performances on Broadway and won a Theatre World Award for Outstanding Broadway Debut. In 1989, 'Shirley Valentine' was adapted into a film, again starring Collins as the title role, where she received a BAFTA Award. Willy Russell also nominated for Best Adapted Screenplay for the BAFTA and Oscar Awards.
Willy Russell's plays are often revived on the London and UK stage, most recently from 20th July to 30th October 2010 when 'Shirley Valentine' was performed for a limited run, with Meera Syal in the title role. Stay tuned for any news on Willy Russell revivals in 2011.