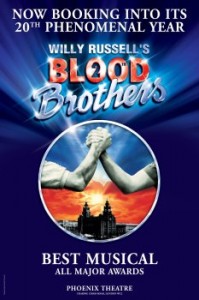 If you are thinking of purchasing tickets to see classic British musical Blood Brothers at the Phoenix Theatre, London, then you may be considering the possibility of turning up on the day and looking around the ticket booths at Leicester Square. It can be convenient to just pop in and get a couple of seats last minute, but is it better and cheaper to buy them in advance on the internet?
The disadvantages of buying at a Leicester Square 'half price' booth is that tickets are usually the same price or even slightly more expensive than ones purchased in advance online. As you can usually only buy the tickets for a show on the day, there is sometimes limited availability with no choice to select your own seat, and if booking for a very popular show, there is sometimes no availability at all. This can be very disappointing if you have had your heart set on seeing a certain show, leaving you to choose tickets to see something else.
It will be cold, unpleasant and possibly raining if you visit London during the winter months (and perhaps even the summer months!) and so traipsing around through Leicester Square is not the most enjoyable activity in these conditions. You will almost certainly have to be out wandering from booth to booth for a while to ensure that you are getting the best deal possible, as your first offer may seem great but it could turn out to be the most expensive deal after a look around.
Booking theatre tickets online is much more preferable as it allows you to choose your own seats well in advance and ensures that you definitely have tickets to the show. Although it is nice to be spontaneous at times, the excitement and build up to the show can be even better. There are also usually great deals on the internet, selling great seats for very little, with a small or no booking fee at all. Another advantage to booking online means that you avoid standing out in the cold and being sold inadequate seats for the price you are paying. By booking online, you could have some great Blood Brothers tickets booked without even getting out of bed!
| | | |
| --- | --- | --- |
| Reason | Online | Leicester Square Ticket Booth |
| Advance tickets | | |
| Booking in comfort | | |
| Allocated seat | | |
| Availability guarantee | | |
| Last minute tickets | | |
| Guarantee of good seat | | |