Edinburgh Playhouse
Willy Russell's Olivier Award-winning West End musical Blood Brothers arrives at the Edinburgh Playhouse as part of a celebratory 30th anniversary UK tour. Presented by Bill Kenwright, and with direction from Bob Tomson and Kenwright, the production continues to wow audiences across the country, and across the world. Blood Brothers is the heart-breaking story of twins separated at birth, earning the 1983 Olivier Award for Best New Musical, before it embarked on a 24-year West End run at the Phoenix Theatre.
Blood Brothers is the story of twins who grow up on opposite sides of the tracks, only to meet again with tragic consequences. Mrs Johnstone, a young mother, is left to bring up her seven children on her own. Becoming a housekeeper to a wealthy couple, she discovers that she is pregnant with twins, and enters a secret, ultimately deadly, pact with her employer.
With an iconic score including "A Bright New Day", "Marilyn Monroe" and the show-stopping "Tell Me It's Not True", Blood Brothers stars Lyn Paul as Mrs Johnstone, after she closed the West End run in the role. With a star-studded cast, the legendary musical plays across the UK, stopping at the Edinburgh Playhouse for a limited week-long engagement.
Dates
Monday 5th March 2018 – 7:30pm
Tuesday 6th March 2018 – 7:30pm
Wednesday 7th March 2018 – 2:30pm & 7:30pm
Thursday 8th March 2018 – 7:30pm
Friday 9th March 2018 – 7:30pm
Saturday 10th March 2018 – 2:30pm & 7:30pm
Seating Plan and Ticket Prices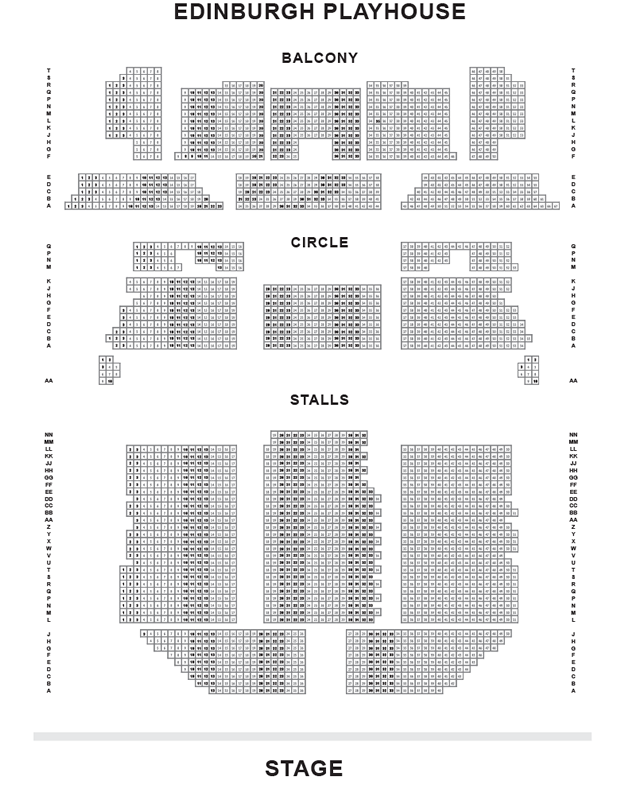 Please note that prices change depending on the time of the performance.
| | | | |
| --- | --- | --- | --- |
| Ticket Price | Stalls | Circle | Balcony |
| £53.90 – £57.90 | Centre seats of Row L are this price, as they offer exemplary views of the entire stage. Sit here for the best theatre experience. | Not available. | Not available. |
| £45.50 – £49.40 | Seats in the middle of rows E-J are this price, as they are the best options in the Stalls. A good rake means you can see the entire stage without any restrictions. | Centre seats in rows A-B are this price, as they are the best views in the Circle. These seats are a good option for large-scale musicals, and there are no restrictions. | Not available. |
| £38.90 – £41.90 | Most seats in the Stalls are this price, as there are good views on offer throughout. Sit as centrally as possible for the best overall view of the stage. | The majority of seats in the front three blocks of the Circle are this price, as a decent rake ensures a good overall view of the stage, no matter where you are sat. Sit as centrally as possible for the best view. | Not available. |
| £31.40 – £34.90 | Seats at the ends of rows E-FF are this price, as they are very partially restricted view, due to being at the end of the row. Rows GG-JJ are also this price, as they are toward the rear of the Stalls and the Circle overhang partially affects the view. | Limited seats in rows M-P are this price, as they are toward the rear of the Circle and are partially affected by the Balcony overhang. Sit here for a bargain seat. | Most seats in the front three blocks of the Balcony are this price, as they offer a good view of the stage, due to raked seating. The stage may feel distant from here. |
| £23.90 – £24.90 | Rows KK-LL are this price, as they are at the rear of the Stalls and are affected by the Circle overhang. | Row Q is this price, as it is the rear row of the Circle and is affected by the Balcony overhang. | The majority of centre seats in the rear of the Balcony are this price, as the stage is distant and legroom is severely limited. Further seats at this price are toward the ends of rows A-E. They face the stage side-on and have limited legroom. |
| £17.90 | Rows MM-NN are this price, as they are at the rear of the Stalls and are drastically affected by the Circle overhang. | Select seats in the rear of the Circle are this price, in rows P-Q and M. They are restricted by safety rails and have limited legroom. | All seats in the rear side blocks of the Balcony are this price, in rows F-T, with further seats at this price in the centre of Row J and Q. Seats at this price have restricted legroom and are distant from the stage. Further seats are at the ends of rows A-E in the front blocks and have restricted legroom. All of Row D is this price, as there is severely limited legroom. |
Venue Address
Edinburgh Playhouse, 18-22 Greenside Lane, Edinburgh, EH1 3AA
Venue Map